Investing in a piece of equipment that can potentially rival the cost of a luxury car is a step that should definitely not be rushed. And even though the initial price tags on many of the best large format uv flatbed printers on the market may be un-nerving, the potential return on investment for your business can be sky-high – as long as you find the right printer and partner.
From pricing to purpose, we've compiled nine major questions you need to think about as you search for a new industrial flatbed printer.
1. What is the Price of a Flatbed Printer?
Exactly how much is a flatbed printer going to cost you? As we've mentioned, large format flatbed printers can come with a big price tag, so it's important to understand exactly what you're getting for your investment.
Just like with any tool you're buying, the price will fluctuate from brand to brand and a higher cost may not necessarily mean a better piece of equipment. The price will also vary depending on the size of the printer you need. Printers that are at least 10' wide are considered grand format or super wide format flatbed printers. These models will have a bigger price tag than small flatbed printers.
Researching the best manufacturer for your goals will help you find the brand that's right for you, and from there you can select a flatbed printer model with a price you're comfortable with.
Below is a sample of the top 4′ x 8′ competing flatbed printers to give you an idea of pricing in the industry.
Flora – 2512UV                               $114,995
CET – Q5-500 3X                           $74,995
Océ Arizona – 318 GL                    $89,995
Roland Versa UV – LEJ-640FT     $89,995
Mimaki JFX200-2513                    $77,995
2. Why Do You Need This Printer?

There are plenty of reasons why you may be exploring your printer options. Maybe your current equipment is outdated or you're looking to add another piece of machinery to the mix in order to boost your production capacity. Or it could be that you're finally ready to purchase your own large format flatbed printer after years of outsourcing to a third party.
Here are some tips for whatever your current situation may be:
If it's a Replacement:
If you're looking at replacing an older model, consider if you want to stick with the same brand or possibly move to a new one. Has your current model been reliable? What is the reason you need to find a replacement? If you haven't owned the machinery for very long and it's simply not producing like it used to or should be, you may want to think about switching to a more reliable brand.
If it's an Addition:
If the new printer will be an addition to your current production line, keep in mind the other brands and models you already have.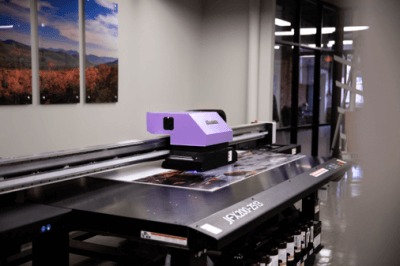 Maybe you have a roll-to-roll printer from a particular manufacturer and they have a flatbed in their line that will fit all of your needs. Or maybe there's an alternative manufacturer that has the right printer for your specific needs.
Either way you'll also need to consider the software programs that each printer requires and how using multiple brands and models could impact your workflows. (We'll go into detail on software later on in this post.)
But the most important takeaway here is to understand the capabilities of the printers you already have versus the capabilities of the printer you're looking to purchase. This will ensure you get the most for your money.
If it's Your First Flatbed Printer:
If your ultimate goal is to make a step into production after you've been outsourcing, the transition to UV flatbed printers will be littered with options at various price points. Finding the right model for your printing applications and business needs is a key reason to find a distributor who will be a true partner with a strong knowledge base in the models you're considering. Not only should they help guide you in making the right choice for your current business needs, but should those needs change in the future they may be able to provide more options and help you avoid significant financial loss.
If you're unsure what printer is right for you, try out our Printer Finder Tool and we'll give you recommendations tailored to your specific needs.
3. Will You Lease or Buy?

Like with any large investment, there are pros and cons to leasing and buying. Your financial situation may sway you in one direction, but you should still weigh the benefits and disadvantages of each option before settling on a decision.
Purchasing your printer outright will be the least expensive and fastest option in the long run, while leasing is often a quicker way to bring equipment in vs. financing through a bank, for instance. Bank financing involves an incredible amount of paperwork that can take weeks for approval. On the other hand, the ease of leasing can be offset by interest rates that are generally higher. Financing, though a longer process, can offer lower rates and a lower long-term cost of ownership, but will often do so with little to no flexibility when it comes to the terms of your repayment contract.
You can learn more about the pros and cons of each option in our blog post, Should You Lease or Buy Your Industrial Wide Format Printer?
4. What Do You Need to Print On?

One of the most important factors to think through are your actual production goals. What products are you intending on printing? Fome-cor? Sintra? Acrylic? Dibond? Backlit signage? Point-of-purchase displays? Promotional products? The substrates you use will dictate the type of flatbed that will give you the highest quality end product and best overall value for your investment. Keep in mind the following features and capabilities in your search:
How Big of a Print Bed Do You Need?
Are you printing billboards, or thumb drives? If you're on the smaller side, will you may want the option to expand in the future? The size of the print bed can be a deal breaker for a lot of possible printing projects.
If you're unsure of what the future may bring, it may be most beneficial to look into a manufacturer like Mimaki that has a full line of UV printers. Their desktop flatbed printer, part of the UJF-MkII Series, allows for a great deal of flexibility and growth. Mimaki USA's Senior Manager of Industrial Printing Business Development and Marketing, Josh Hope, says, "This can be the first machine that a customer purchases when entering the industrial printing market and later scale up to a full production workflow as the business grows."
Mimaki's range also includes grand format (or super wide) printers like the JFX200-2531, an 8' by 10' print bed with a toggle print function so you can print on both small and large products.
What Materials Are You Using?
Even though industrial inkjet printers can print on a variety of materials, the actual quality of the graphics can be hit or miss.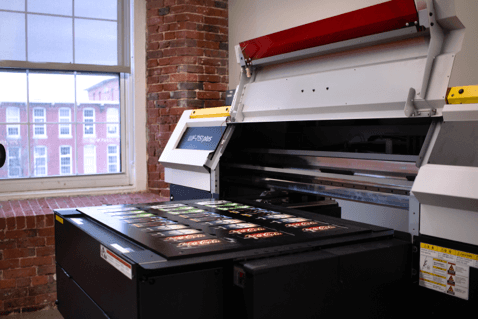 Sure, you may have spent top dollar on a UV flatbed printer that's the highest-rated in the industry, but that will mean nothing if you need to print on films and it's more ideally suited for printing on rigid plastics. Make sure the printer you select is ideal for your intended use.
Do You Need White Ink?
The limits to what you can print on are seemingly non-existent if you go with a printer that has white ink capabilities. That's because white ink will help create high-quality graphics on rigid or flexible substrates, like acrylic sheets or backlit films, and can also be used as a "base coat" for printing on non-white materials. Printing white simultaneously with color is ideal when required.
Not every machine is capable of printing with white ink; the equipment must be engineered strategically to handle it. White ink requires agitation to keep it from separating – think of an old paint can whose pigments have settled. Some machines automate this process while others do not and some simply address it by purging your ink, which is another operational cost to be considered.
Should you go with a printer that can print using white ink – like the Mimaki JFX200-2513 – you will be pushing the boundaries of value with great production and quality capabilities that can open your business up to an even broader customer base.
5. What is the Upkeep?

The initial investment you make in the printer won't be the end of your financial responsibility. When you own a car, you need to expect added costs for fuel, routine maintenance and servicing when necessary. An industrial printer will have similar needs.
There will be additional expenses like ink, media and other consumables, not to mention the utility costs of actually running the machine. And for the longevity of your printer, you'll want to make sure it's serviced and properly cared for throughout your ownership.
You should also figure out the financial implications of having an operator actually run the equipment. Will your current employees have time to learn the ins and outs of the printer? Are they going to have enough bandwidth in their day to monitor production or will you need to hire someone?
6. What is the Alternative?

While having a printer in-house offers a world of benefits, there are other outlets you can still consider. Working with a third-party printer could be an option depending on your demand, but there is likely to be a premium in pricing and you won't have full control over your end products. You can read more about the impact of outsourcing your printing services in this article.
If you already have equipment that just isn't performing as well as it used to, you could try servicing it or look into replacement parts/heads to increase its efficiency. Or, if you need a new printer for a specific product or job, you may be able to have your customer purchase the equipment and install it at your facility where you can operate it for them.
7. Do You Need a Roll-to-Roll Option?

Flatbed printers are ideal for a wide range of applications but there are still some jobs that are better suited for a roll-to-roll printer. Ink type is a big factor here since flatbeds are primarily UV, while various roll-to-roll models can utilize dye-sublimation, solvent, latex, aqueous or UV inks.
If you are looking for a machine that can do both, there are many hybrid printer options and part additions available from a variety of brands. However, having both flatbed and roll-to-roll capabilities in one hybrid printer can slow down production as you are limited to one functionality at a time. Often there is a dedicated roll-to-roll printer option that can outpace an integrated printer at a significantly lower price point. So generally, unless space is a major constraint or you have a very specific need, having a dedicated flatbed and a dedicated roll-to-roll printer (depending on the application) will provide much higher outputs at a lower price point.
Important to note is that roll-to-roll printers do require a bit more manual labor and material than flatbeds do when working to achieve the same finished product. This is because the roll products will have to be mounted when printing completes, calling for an extra step in the process as well as adhesives and additional materials.
8. How Will Your Other Equipment Integrate?

It's likely that you have other machines or equipment in-house, even if it's just a single small flatbed printer. If you are in a large production house with a variety of printer brands and models running throughout your shop, the software you use should be an important factor to consider.
Modern UV printers require software for processing and managing your printer(s) and often your workflows too. Each manufacturer will have their own version of software that's typically intended for only their brand, but there are a variety of third-party software options available that can manage workflows for multiple printers and printer manufacturers. These third-party software programs are an additional cost – sometimes a few thousand dollars – which will add on to your expenses.
A lot of these software programs, both OEM and third-party, are only compatible with Windows operating systems. If you're a Mac user, your RIP software options may be more limited or require an altogether different workflow from your existing setup.
9. What Are the Partnership Opportunities?

Where you buy or lease your equipment from will actually be a huge factor in your experience with your printer and is especially important if maximum uptime is expected. You wouldn't want to purchase a car that you hope to have for 10+ years from a sketchy chop shop, right? You should make a similar, wise decision when it comes to where you buy a printer for your business.
You're making an incredible investment in this printer, with the hopes of it providing a great return for your business. But what if it needs servicing? What will you do if you can't understand how it operates? You're going to need a reliable partner to turn to for support, ongoing training and warranty options. The quality of the team you work with will be just as big of a factor in your success as the actual printer itself.
From CET and Flora to Mimaki and Roland, the UV flatbed printer options available to you are endless. Before you make an investment, be sure to research UV flatbed printer reviews, prices, comparisons and as much information you can. The ITNH team would love to help you start and finish your search for the right large format flatbed printer. Contact us for recommendations, advice or even just to get the low-down on the best brands for your business.